4.7/5.0 stelle
+2400 recensioni
Spedizione sempre gratuita
365 giorni di diritto di reso
Prezzi su misura su tutti i prodotti
Fornitore ufficiale di oltre 100 mercati di design
With the right children's lamp, you can create lots of ambience and coziness in the children's room. The children's room needs good lighting and the lamps for our beloved children need to be safe for the children to use. In our assortment you will find fairytale-like, sweet, charming and not least safe lamps for the children's room from the most well-known manufacturer's of children's lamps, including Zoolight, Roommate and HappyLight. When you buy a lamp from us, you always get free delivery to your door. If you want further inspiration for your home, we recommend looking through our selection of cheap and nice lamps. If you have questions regarding lighting in the children's room and the lamps below, please do contact our customer service via telephone +45 44 44 62 44 or e-mail info@AndLight.fi.
Inspiration for the children's room
Among the most popular children's lights from Zoolight, Roommate and Happylight you are sure to find a fairytale-like and colourful lamp that will match your child's room – they are beautifully decorated and provide a good light. The Zoolight lamp series contains many different models and in 2011, Zoolight launched a mini version called minizoolight. The lamps from the minizoolight series contain built-in LEDs with a colour scale to allow the lamp seven different colours. Zoolight's children's lamps are best characterised by their lampshade design shaped as animals, which include an elephant, giraffe, cat, cow, fish, teddybear and moose. At Roommate, they also continue to develop models such as the Town House lamp. Roommate's Town House lamp is shaped like a neat little house where the light shines from the windows. When you look through our selection of children's lamps you'll definitely find a lamp that can create safety and lighting in your child's room. A children's lamp is a must-have for young children and will certainly be a good investment. A lamp is not just a functionality but in most cases also a decoration that helps create the framework of your interior design. In a children's room, focus is, however, on functionality but also safety and comfort as some young children find it difficult to sleep with the light off. The right children's lamp will provide your child with a friend they can look to for comfort, whether it's the cute teddybear or elephant from Zoolight or the luminating stars from Roommate. Children's lamps are available in many guises, so you can find wall lights, ceiling lights, table lamps and floor lamps in a children's version to match your children's room.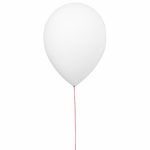 How to choose the right children's lamp
When choosing between the different children's lamps in our assortment, it's primarily down to your personal taste. The models mostly depict different animals with cute and pretty expressions. Hence, you mainly need to choose whether you want a table lamp, wall light, ceiling light or pendant version and whether a cat, giraffe or teddybear is just the thing for your child. A good idea is to choose the animal that your child finds the coolest or cutest or funniest, so you might want to look through our selection with your child if you don't know their favourite animal yet.

If you have a teenager or a slightly older child, a classic colourful children's light might not be the most popular choice and you may want to look through our selection of designer lamps. If you need light for the ceiling, we have a big selection of pendants as well as ceiling lights for any type of room. A light on the ceiling works well as the primary lightsource and if you still have some empty space to fill in the room, you should take a look at our floor lamps and standard lamps. Our stylish designer table lamps are also popular among young people and work well as a desk lamp or bedside lamp for reading. When it comes to slightly older children and teenagers, they often care about the design and what looks good. However, it's important that you value the functionality highly as good lighting is important to help them maintain concentration when they're doing their homework. Fortunately, there are many lamp series where the designers have combined functionality with aesthetics and design so you won't have to compromise.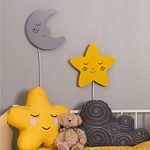 Children's lamps of high quality and great design
For our assortment of children's lamps, we are very diligent to not just accept new manufacturers. This is due to our high demands to quality, especially when it concerns lamps for children. It is of utmost importance that a children's lamp is made in a safe way to ensure that children don't accidentally touch something that could potentially be dangerous. Therefore, we proudly present the popular Zoolight, Roommate and Happylight children's lamps. Besides having high quality and safety as their first priority, their lamps are designed in a funny, fairytale-like and cute way which is evident in the popularity of their lamps for children's rooms. A children's lamp from one of these three manufacturers is the safe choice and is guaranteed to bring joy and security to your child. If you're looking for a lamp for slightly older children or maybe yourself, we recommend you look through our selection of 2.000+ different designer lamps of supreme quality from leading designers and manufacturers without having to compromise on the price. We always have excellent online prices and ensure free delivery right to your doorstep. Among our selection you will, of course, find actual children's lamps but also lamp types for any purpose, whether you're looking for a bathroom light or a lamp for the living room, kitchen, corridor or outside for that matter. If you're in doubt about lighting and need some guidance with respect to decorating you house, don't hesitate to contact us. We have competent people with many years of experience in lighting and lamps working in customer service, ready to help you.
See what our customers say about us
AndLight
has
9.2
out of
10
stars based on
876
reviews
.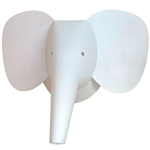 Children's lamps